Import store owner grabs industrial building in crowded Portland market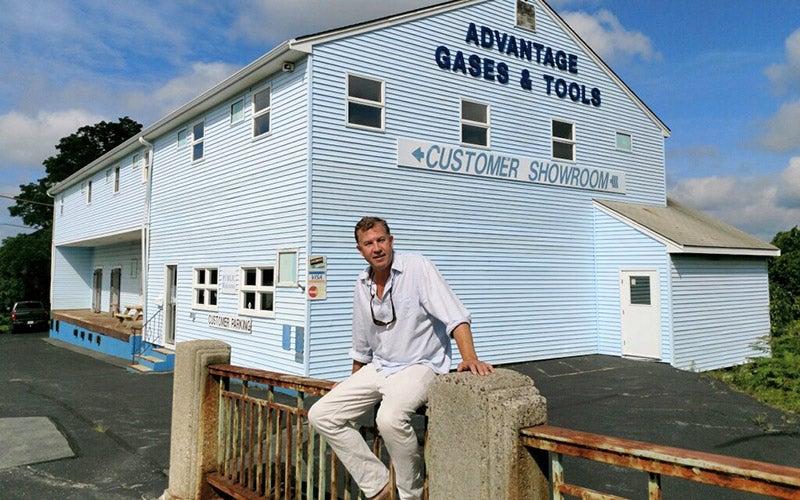 In Portland's tight market for industrial buildings, the owner of Asia West, an imported furniture store, was able to secure the purchase of a 13,880 square foot facility before it hit the market.
Asia West bought 128 Cassidy Point Drive in Portland from PWS Holdings for $ 675,000. Frank O'Connor and Tom Dunham of NAI The Dunham Group negotiated the sale, which closed on July 2.
"It never even hit the market until we got it under contract," said O'Connor, who represented the buyer. "Everything in Portland is like gold. It does not last on the peninsula.
Asia West owner Tod Dana has said he will use the ground floor as Asia West's new warehouse. Part of the second floor will be used as offices for his teams at Asia West and El Rayo Taqueria, a Mexican restaurant he also owns and operates in Portland and Scarborough. Other spaces upstairs will be rented to craftsmen for light manufacturing.
A visit to Nepal
Courtesy / Tod Dana
Asia West's existing warehouse, located at 193 Presumpscot Street in Portland, is teeming with imports.
Asia West's existing warehouse is located at 193 Presumpscot Street in Portland. He rents space from artisans there, and many have expressed interest in following him to the Cassidy Point Drive building.
He leaves the Presumpscot Street building at the end of the month.
"I was a tenant and the lease expired," he said.
Dana became fascinated with Asian culture many years ago, when he visited an older brother who lived in Nepal.
"I went to visit him after college on a lark," Dana told Mainebiz. "We traveled together. That was the start of "Let's find a way to keep going back to this part of the world to travel, but let's turn it into a kind of self-sustaining business." "
The import activity started modestly.
"And it's still pretty modest," he said. "But I've been importing now for 30 years. And Asia West has been around for 26 years. I always do all the shopping myself. I buy for our retail business and also for trade shows and wholesale customers. It's not a fancy dress but we've been there for a long time. I appreciate."
Dana travels abroad maybe twice a year, to countries like India, Indonesia, Thailand and Vietnam.
"If I'm shopping for jewelry, I could be in India, Indonesia and Thailand, where there is a rich indigenous history in metallurgy. For furniture, I could be in India, China or Thailand.
Several sea containers every year
Courtesy / Tod Dana
Tod Dana operates his Asia West retail store at 219 Commercial St. in Portland.
In 1993, he opened West Asia at 219 Commercial Street in Portland. The initial inventory was a modest selection of furniture, crafts and jewelry, but has evolved into a comprehensive selection of home and garden furniture, including furniture, textiles and fabrics from furnishings, the website says. Dana and her team meet directly with traders and artisans, cutting out the middleman and passing the savings on to customers. The company has recently become a wholesale resource for retailers and interior designers.
The warehouse receives several shipments of sea containers each year. It is open to the public on weekends and by appointment.
"It's a tradition that has gone really well," said Dana. "People come on the weekends and love to comb through the warehouse."
Dana said that knowing his Presumpscot Street lease would expire, he has had an eye on the Cassidy Point Drive property for a long time.
"It's super convenient for my retail store," he said. "It's halfway between my two restaurants. I live on Danforth Street, half a mile away. It offers a view of the water. And it's very functional, with easy access to the highway. I identified it a few years ago as a perfect place, but the landlord had a lucrative lease, so if I was to buy it before that I should have paid him a premium. So I waited for the end of the lease.
Dana said he had searched for a warehouse for a long time.
"Marijuana growers have made storage space in Maine difficult to find and quite expensive," he said. "So I was happy to be able to find that. "
The new warehouse, built in 1970, involves some light renovations – mostly cosmetic and cleaning work, as well as window replacement and some roofing work – at an expected cost of between $ 100,000 and $ 200,000.
"I'm here right now covered in sawdust," Dana said. "I do a lot, plus I have friends and hired help to help me. And besides renovating this month, I also have a huge moving sale in my warehouse and then I make the move.
Hotel De Niro
Dana said he typically stores between 8,000 and 9,000 square feet of inventory, worth hundreds of thousands of dollars, in his warehouse. But with the new warehouse, he plans to downsize a bit and efficiently arrange the space to attract out-of-state wholesale customers from as far away as Ohio, Philadelphia and Florida. . This is a relatively new aspect of the business. , he said.
It's also increasingly becoming a resource for interior designers of high-end properties, including actor Robert De Niro's Greenwich Hotel in Manhattan, for which Dana supplies two trucks of furniture.
"These are fantastic jobs and I hope to do more," said Dana. "The designers really do a lot of the creative work and then use us as a resource. I am very quick to say, "We would be more than happy to welcome you. "