Portland restaurants fear fall weather will close stores for good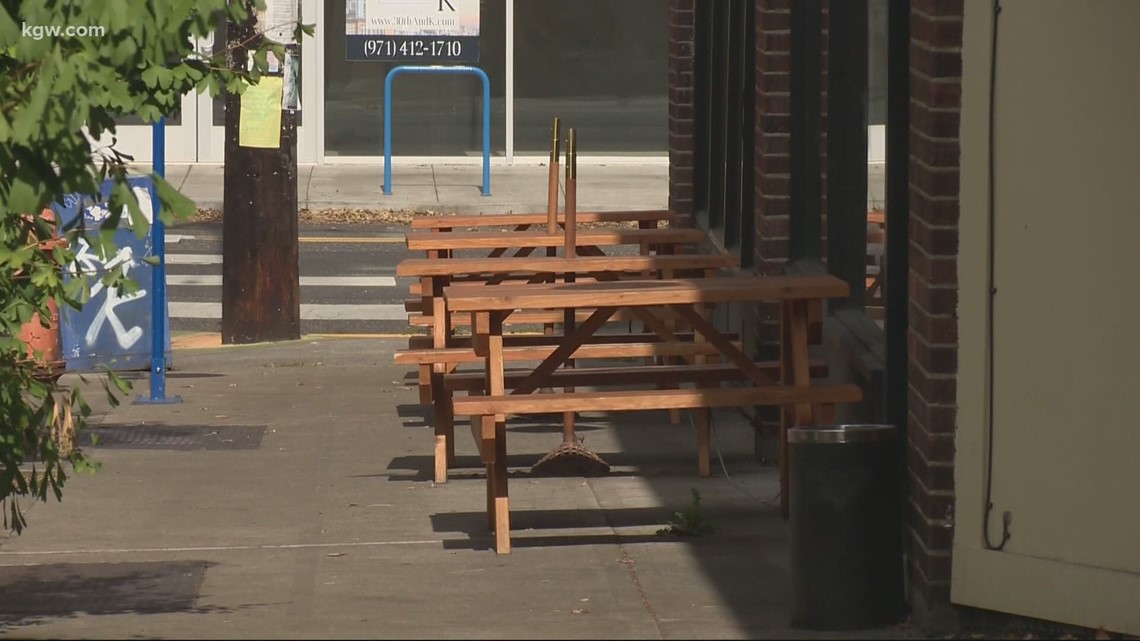 If restaurants can't, or choose not to, sit people outside once the weather turns down and the tables inside are spaced out or empty, that will mean even less money to come.
PORTLAND, Ore – During the pandemic, outdoor seating was a game-changer for many restaurants in Portland. But now, with climate change, homeowners fear losing the option.
We could hardly enjoy the last few weeks of summer because of the thick smoke that covered the state for several days. Most companies, which were already struggling to survive, thought it was the right thing to do to close the outdoor seating during this time; for many it meant closing their only option to make money.
The changing leaves mean wet and cool weather ahead.
"It's going to impact everyone and all of our numbers," said Yakuza Ghost Kitchen co-chef Caitlin Heringer.
Since restaurants revived sit-down service earlier this summer, many have relied on patios or street and sidewalk permits.
"When I dine outside I don't even want to sit inside, so having a patio is crucial in these times," Heringer added.
Hundreds of bars and restaurants across town have obtained permits from the Portland Bureau of Transportation (PBOT) to seat people on the street or on sidewalks. But these expire on November 1. A spokesperson for the PBOT said the agency is currently looking to extend those permits.
Restaurants and bars have been operating well under capacity for several months now, which means they are only making a fraction of the income they were making before the pandemic.
If places can't or choose not to sit people outside once the weather turns down and the tables inside are spaced out or empty, it will mean even less money to come.
"The weather is changing and the patios are closing which will really limit the ability to have the number of people we need to make business meaningful," said Renata Chef / Owner Sandra Arnerich.
RELATED: City of New Portland's Program Helps Restaurants Build Business During Pandemic
So she and her husband made the difficult decision to close their dining room – possibly for good. That is unless they no longer receive government assistance to pay for staff, rent and other operating costs.
Renata has switched to takeout only a few days a week and will continue to make her popular pizzas sold in New Seasons markets. They hope to expand this effort now that the dining room is closed.
"Being in an enclosed space with a heater and people without masks at the table while we are still in the midst of a pandemic is not the responsible thing to do for us and our staff," Arnerich said. "Not only are we not comfortable with it, but people are not doing the same; people are always nervous, people are careful.
Arnerich feels that she is crying for her dream; they put every ounce of energy into Renata. She raised her children in a restaurant.
"It's, for us, a huge part of our life and our family. So it's like losing a family member. It's devastating," Arnerich said. "My heart breaks for us and our restaurant but it is also breaking down for other restaurateurs who will be faced with the same reality as us. "
Others will try to make it work, like celebrity chef Vitaly Paley and his wife Kimberly. They own Paley's Place, Imperial and The Crown, Rosa Rosa and Headwaters.
"It's going to be interesting to see how this all plays out. But I have to say people aren't afraid to be indoors too, "Vitaly said.
At Paley's Place and Imperial, the two restaurants they own that are currently open, the Paleys said the tables are spread out, the ceilings are high and there is plenty of ventilation. They say they have trained staff extensively on safety and sanitation protocols.
"It's as safe as it gets at this point," Vitaly added.
The Department of Food and Shelter restaurant group, owned by Dayna McErlean, has closed and sold most of its spots. The chefs embark on a new culinary adventure in the former Nonna space; it's currently called Yakuza Ghost Kitchen but will change to Ghost in October.
The space has a back patio as well as a street permit with other restaurants on the block. Heringer plans to put an awning or tent and heaters in the back once the rain starts. But they also encourage people to sit inside.
"It's really hard to say what's going to really happen and we're just going to try to adapt as best we can. And I hope we all survive, "Heringer said. "I just don't know what the next step is, it's just a little day to day."
This appears to be the theme of COVID; Kimberly Paley said the same words.
"I think we'll take it all day by day. Shall we put a blanket on [Imperial's sidewalk seating]? I don't know, I don't think so. People sat on the sidewalks with our permits on the sidewalk even in the cold. "
Paley's Place on NW 21st has a covered patio and outdoor heaters. Perhaps this is what helps restaurants and bars that can afford to invest in these items stay afloat until fall.
The Paleys are hopeful about the future of their restaurants, although Rosa Rosa and Headwaters, which are inside Portland's downtown hotels, remain closed.
As long as staff and patrons stay on their toes, they also hope Portland's restaurants bounce back.
"Portland has been – and I hope it will continue to be – a foodie destination across the country," Kimberly said.
"It's really scary. And I have no idea whether my future is guaranteed in this industry or not, "Heringer said.
"It's the little restaurants that really create our city," Arnerich added. "It has such a big impact on so many levels. "
RELATED: 'If I Come Back I Think I'll Likely Close My Doors': Portland Restaurant Owners Worried About Phase 1 Rollback
RELATED: Tips for Purifying Your Home's Air After a Smoky Week in Oregon, Washington