State of Portland's restaurants amid COVID-19 restrictions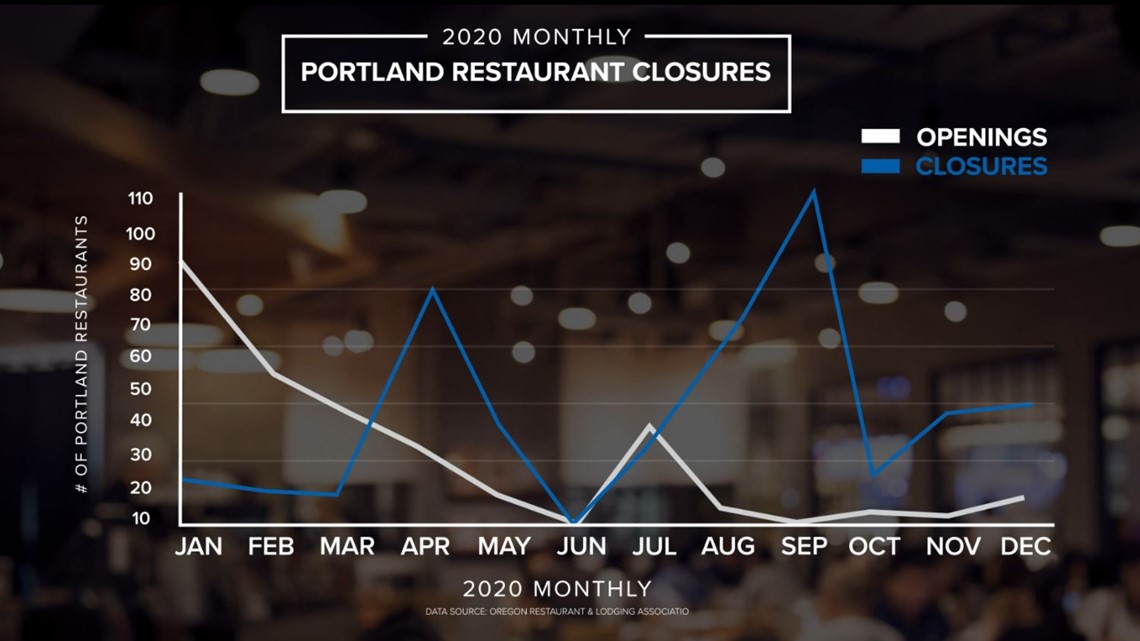 "It's a very delicate business at the best of times, so when it's like that it's almost impossible," said Renata owner and chef Sandra Arnerich.
PORTLAND, Ore – The longer the pandemic continues, the more Portland restaurants are closing. While more than 330 opened in 2020, more than 500 Portland restaurants have closed – more than any year since 2011, according to best available data from the Oregon Restaurant & Lodging Association (ORLA).
Already in 2021, ORLA says nearly 90 restaurants have closed.
A city famous for its tasty scene has attracted foodies from near and far in recent years. But today the scene is very different.
"There are people who have to lose their whole business, their dream and everything they've worked hard for," said Sandra Arnerich, owner and CEO of Renata.
"We were a thriving business. The whole downtown area was a thriving place, this is where you wanted to be – until COVID hit," said Vitaly Paley, owner / manager of Paley's Place.
Award-winning chef Vitaly Paley and his wife Kimberly have closed four of their five renowned Portland restaurants. Four were inside downtown Portland hotels, including Imperial, Crown, Rosa Rosa, and Headwaters.
"It didn't make sense to stay open," Vitaly said.
"It was a heartbreaking thing," Kimberly added.
Frequently changing COVID-19 restrictions for restaurants have added to the challenge.
"That's the hardest part, it's the uncertainty and not knowing," said Normandy general manager and co-owner Amanda Winquist.
When Oregon Governor Kate Brown ordered the shutdown in March, restaurants switched to take-out and delivery. A few months later, in June, the state allowed restaurants in Portland to seat a limited number of people until a certain time.
Homeowners have rehired staff and many have updated their HVAC systems or invested in air purifiers and plexiglass.
"When we had dinner inside this summer we left the windows open and installed a filtration system and we felt safe and comfortable about it," said Winquist.
RELATED: Oregon Restaurant Owners Express Frustration With Pandemic To Representative Bonamici
As COVID regulations allowed more people to go outside, many restaurateurs have spent thousands of dollars building temporary structures, renting tents, putting up decorations and buying heaters.
"We were 'sustainable' and I say sustainable in the aerial quotes because we were just breaking even," said Jason French, owner and head of Ned Ludd.
As the weather got worse, others withdrew, including Renata.
"Putting all of these resources into making outdoor dining achievable and comfortable for people didn't make sense because the volume wasn't going to be there to support the staff and the construction and stuff," Arnerich said.
November brought gloomy weather and another shutdown as the pandemic worsened. Restaurants have been pushed back to take out and delivery only.
The owners had brought in staff to take care of meals inside and out, as well as take out. This time, most were forced to lay off again almost all of their staff.
"We are dealing with perishable goods," Arnerich said. "It's a very delicate business at the best of times, so when it's like that, it's almost impossible."
In early December, heads of state again allowed people to eat out in restaurants.
"This is precisely why we decided not to play yo-yo with our restaurant, open and close, open and close," said Paley. "We've chosen a path, and that path is: Stick to takeout until it's allowed and safe enough that we can open the restaurant."
Today, hair and nail salons are open with restrictions and a few people can work out in a gym. But you can't eat in Portland restaurants.
Many restaurateurs are frustrated and disappointed that they don't have the opportunity to open meals indoors with security measures in place at this point.
Other restaurant owners believe this is the right decision, claiming that we are still in the midst of a pandemic and sitting indoors with other people without a mask while eating and drinking is not maybe not the safest thing to do right now.
Those that were still open had to pivot, get creative and innovate.
Renata, on the east side of Portland, did a 180: from fine dining to frozen pizzas.
"When times are tough, you have to be creative," said Arnerich.
About a mile away, Normandy took a month off to give staff a break and resumed eating al fresco this week.
Further north, Ned Ludd's future is uncertain because to-go hasn't worked out well for them. However, the Frenchman is hopeful after receiving a second round of PPP money.
"I cannot produce enough income to pay rent, bills and staff with the current restrictions as we have them," French told KGW.
The Paleys are now focused on perfecting their popular take-out menus at their original restaurant, Paley's Place in northwest Portland. They are optimistic that Portland will one day regain its reputation as a popular foodie destination.
"Restaurateurs are a disjointed bunch," Vitaly said. "We'll make it work. I promise you."