Visitors concerned about safety in Portland, hotel executives say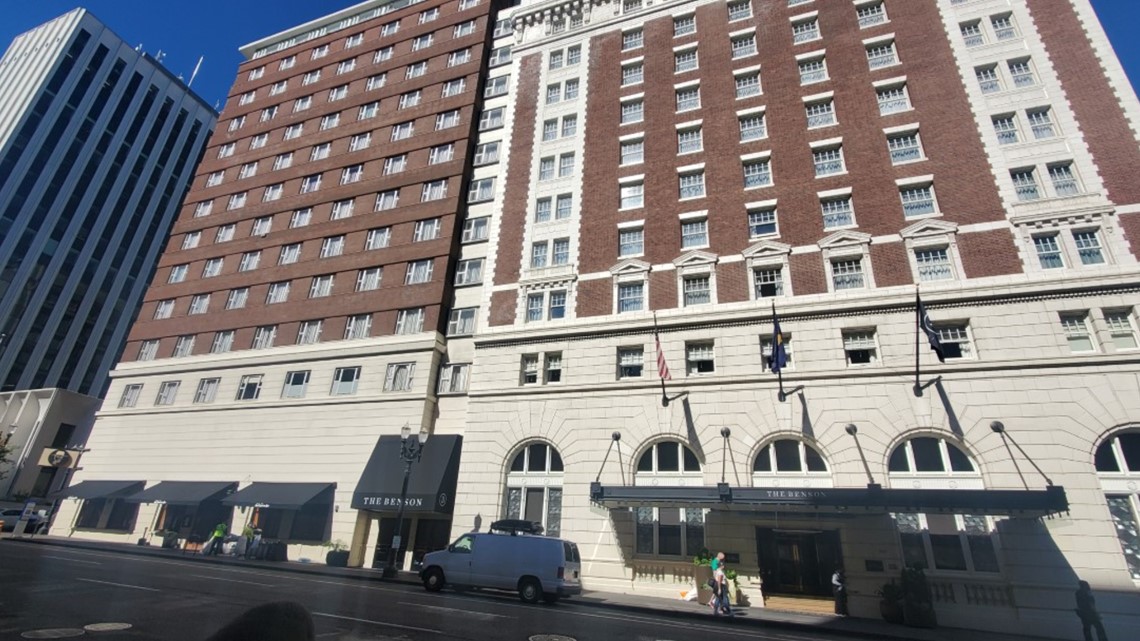 The chief of the Oregon Restaurant and Lodging Association said the biggest problem for travelers is a message that the city is not safe.
PORTLAND, Oregon – Business leaders of downtown Portland hotels and restaurants say fear of violent protests has replaced fear of the pandemic with potential visitors.
On a sunny September day, the streets of Portland should be teeming with tourists and business travelers. The pandemic has alienated some of them, but in many parts of the country people are starting to travel again.
As fears subsided and the economy began to recover, a new problem arose in Portland.
"Make no mistake, we're in a tough spot in Portland," said Jason Brandt, president and CEO of the Oregon Restaurant and Lodging Association. "We have the worst occupancy rates in the entire country for markets of a similar size. We're even behind Oahu, which has a 14-day quarantine, so we have a lot of work to do to show what Portland is. "
Brandt said the biggest problem with hotels and restaurants in Portland is a message that the city is not sure it will be covered by the national media and President Donald Trump.
Governor Kate Brown and a number of community leaders released a statement on the violence on Thursday.
"As elected officials and community leaders, we come together to condemn the acts of violence in Portland that occurred as thousands of Oregonians peacefully protested for racial justice and police accountability.
"There is no place for white supremacy or self-defense in Oregon.
"All those who commit violent crimes must be held equally accountable.
"Together, we are committed to doing the hard work that will bring about meaningful change for racial justice and police reform."
The declaration is signed by key Oregon legislative leaders as well as numerous senators and state officials, community groups, Portland Mayor Ted Wheeler, Portland Commissioner Amanda Fritz and the Multnomah County District Attorney. , Mike Schmidt.
Two missing names are Portland Commissioners Chloe Eudaly and Jo Ann Hardesty.
Brandt, of the Restaurant and Lodging Association, urged Eudaly and Hardesty to condemn the violence.
"We call on other Commissioners to join Commissioner Fritz and Mayor Wheeler in standing up for their convictions. Are you against violence? Are you in favor of a safe Portland? Brandt said.
At the Benson Hotel, the occupancy rate for the month of August 2020 is only 15%. Around the same time last year, it was 90%.
"[Occupancy] was on an upward path and then with the violence and protests going on there was a downturn, "said George Schweitzer, general manager of the Benson hotel." And we can change that image if we all work together. "
But so far the picture has not changed. The Benson normally has 165 employees at this time of year. Right now there are only 30. It is not just the company that is suffering, it is the workers who have lost their jobs and still have not returned to work.
At the massive downtown Hilton hotel, occupancy is zero. Its 455 closed rooms. Guests can stay at the Hilton's other hotel, the Duniway across the street. The chief executive said it was not about COVID-19 but about the violence that frightens potential guests.
"They call us, 'Is it safe to come to Portland?' So this has a huge impact on the overall occupancy rate, "said Managing Director Tauseen Malik.
Four hundred people worked at the two hotels, but a majority are laid off and won't come back until things improve.
"At the end of the day, it's the people who suffer. These are the people who make the minimum wage, $ 15, $ 16 an hour, who work paychecks, who work to make ends meet and they no longer have that paycheck, "said Malik.
"So yes people are suffering a lot because of it," he said.
And then there are the small businesses. Chang Sin struggles to keep his bento business on Southwest 6th Avenue and Main Street.
"Basically I'm trying to survive. Pay at least the utility. I'm not making any money, "Sin said.
He is from South Korea and said his family called to make sure he was safe here. It is only open because the owner allows it to stay rent free for the time being.
"The private sector has helped me. The public sectors? No help, he said, shaking his head.
Note: A graphic in the video package above shows that Multnomah County District Attorney Mike Schmidt did not sign the joint statement. His office told KGW that at the time of airing, he had not been asked to sign it. He has since signed it, adding: "We continue to support Governor Brown in her efforts to end the violence happening in Portland."