School-inspired hotel opens in Denver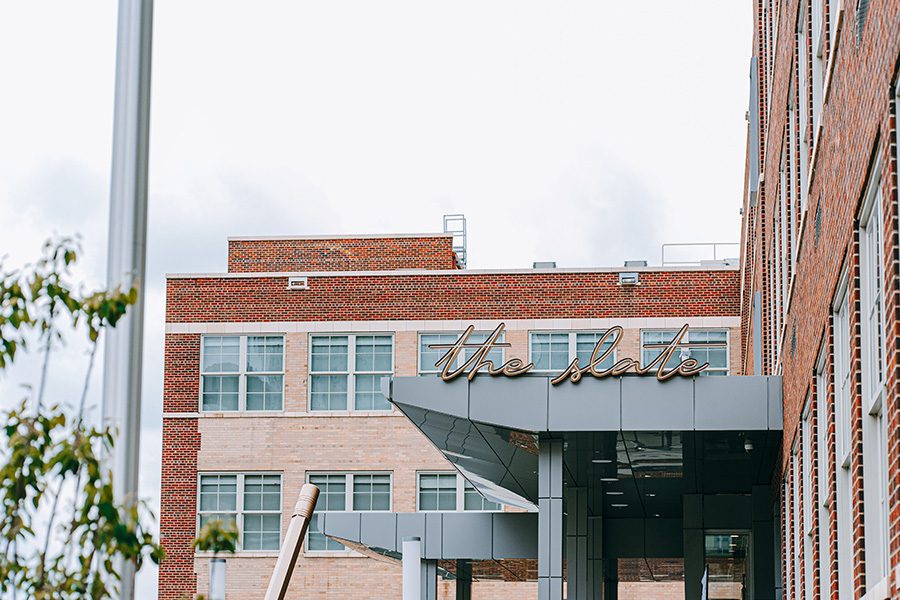 The Slate Denver, Tapestry Collection by Hilton has arrived in Mile High City at the site of the historic Emily Griffith Opportunity School. The four-story, 251-room property embraces its heritage with design by Portland, Oregon-based studio The Society.
"We took that inspiration and abstracted it into a progressive, modern hotel with hints of education-related nostalgia," says Gina Leone, designer of The Society. "The guest's intention upon arrival was to create an immersive space that would tell the story of design through iconic moments, influenced by the tones and textures of the Denver landscape without being too obvious."
Subtle and direct nods to education abound via literary motifs, including library-inspired folders in the lobby and receptions that recall cart catalogs set up in front of salvaged school slate blackboards. The school's traditional materials, such as brushed brass and blackened steel, also punctuate the interior design. Metal mesh, white oak, fluted glass, camel leather, terrazzo floors and white marble complement the materiality for an elevated approach to convention.
Runners featuring playful dot patterns interspersed with bold triangles channel Scantron test sheets and geometry class. "The hallways historically have glazed blocks along most of the walls, it was important to come up with a design for the space that integrated well with the materials while providing a modern and appropriate feel to the project," adds Leone. Quirky elements like school bells and clocks are reinterpreted as modern artwork in the hallways. Arithmetic symbols manifest in rooms and suites, which are anchored by classroom-style desks. Carpet patterns echo abstractions in hallways, while bathrooms feature black and gold wall coverings inspired by textbook pages.
More HD:
Tommie Hollywood fits right into the California fold
6 design-driven New York restaurants
Ambient lighting sets the tone for a Chengdu retreat