On the second day of their only home tournament of the season, this time in clement weather, the Washington beach volleyball team redeemed themselves against Oregon but fell to Hawai'i in from the final day of the Husky Invitational at Alki Beach on Sunday.
After the Hawai'i game against Portland, Washington was scheduled to face Oregon again after a 5-0 loss on Day 1 of the Husky Invitational.
Starting the day with a 1-2 record against Oregon this season, Sunday's semifinal was a perfect opportunity for Washington to even the score.
The Huskies (10-15, 2-7 Pac-12) starting lineup against the Ducks (12-16, 1-4 Pac-12) consisted of senior duo Chloe Loreen and Natalie Robinson, junior duo Scarlett Dahl and Paloma Bowman, redshirt freshman Olivia Mikkelsen and freshman Audra Wilmes, senior Ashley Shook and junior Hannah Yerex, and senior Emma Calle with senior Kyra Petersen.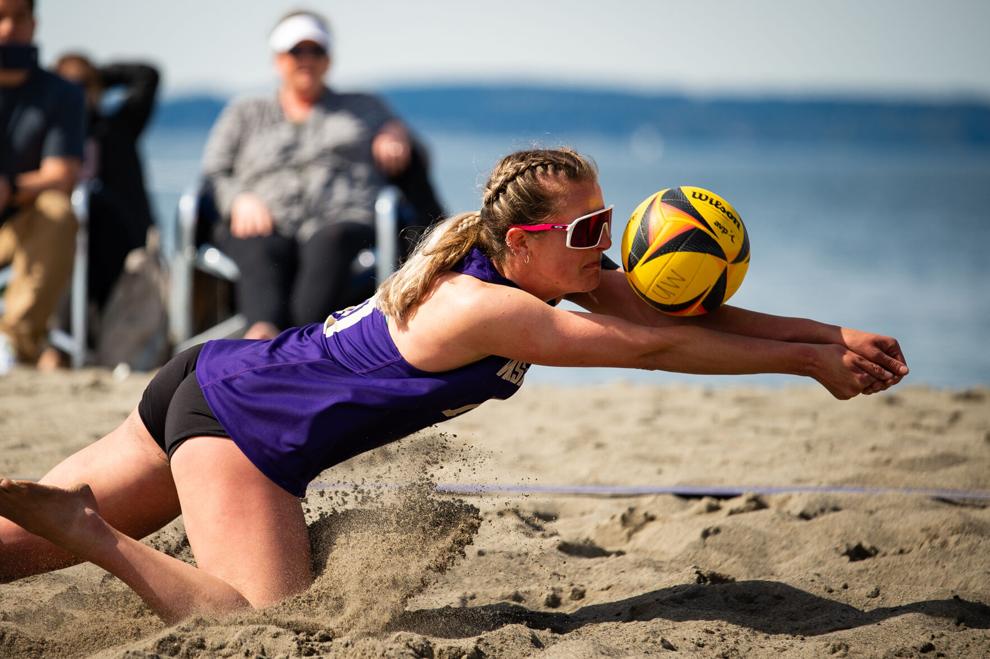 Of the three games won by the Huskies, two of the games went to three sets.
On the second court to finish, and earning the first point for Washington, Mikkelsen and Wilmes won their game point in straight sets 22-20 and 21-18.
The No. 1 duo of Loreen and Robinson beat opponents Oregon in the final two sets after losing the first, going 27-29, 21-15, then 15-6.
Bowman and Dahl also took their opponents in three sets with scores of 21-13, 19-21 and 15-5.
Although UW won the match overall, Court 5 was the last court to finish playing, where Calle and Petersen challenged their opponents in three sets. Losing the first set, the pair saved match point in the second set, winning 20-22 and taking the match to a third set. However, they lost the final set 16-14.
By a slight margin, the Huskies beat the Ducks 3-2, redeeming themselves and facing Rainbow Wahine (22-14) in the championship game.
However, the Huskies couldn't build on their success against the Rainbow Wahine from Saturday to Sunday.
Washington fell to Hawai'i 4-1 in the championship round.
Dahl and Bowman were the only UW duo to earn a point against their opponents, making them the only duo to score a double win today. The two scored the Huskies' only point of the game where they won their first set 21-16 and the second 21-10.
For Loreen and Robinson, the game against Hawai'i was one of the only recent games where they failed to get a game-winning run.
Washington placed second overall in the tournament.
UW returns to Stanford, Calif. next weekend to face Saint Mary's for the first time, looking for redemption against Grand Canyon and Stanford, plus another clash against California after Washington's upset earlier this season .
Contact journalist Avantika Singh at sports@dailyuw.com. Twitter: @avantika.s03
Do you like what you read ? Supporting quality student journalism by donate here.