The story behind the Portland Hotel Blind Tiger is as colorful as its interiors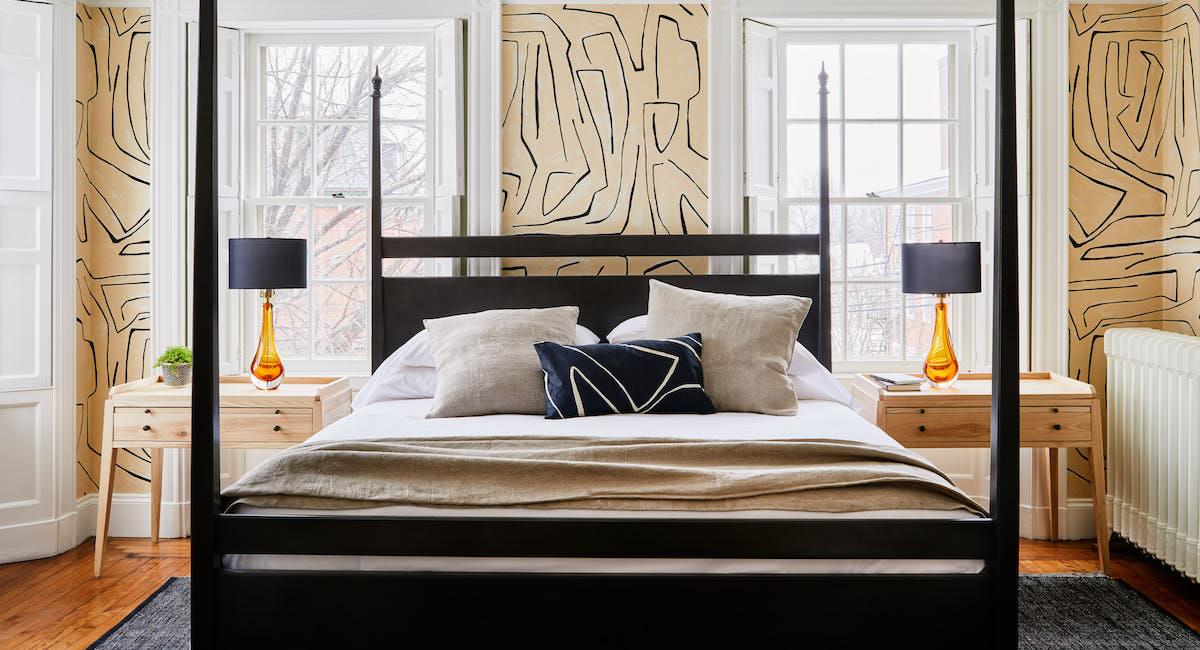 Hint: The name of the hotel dates back to the prohibition era.
---
Portland's newest boutique hotel is the kind of place that will let you post proof of your stay on Instagram, but there was a time when a visit to this same place would have been something you would like to keep a secret. Blind Tiger from Lark Hotels, which recently opened inside the former Danforth Inn with avant-garde interiors and updated amenities, takes its name from a Prohibition-era slang phrase meaning an illegal bar. The reason? This is exactly what space used to be.
Originally built as a residence in 1823, the Federalist-style mansion was later sold to another owner, the Thomas family, who expanded the mansion to accommodate the large and lavish parties they often hosted. The house earned the nickname "social corners" because of its notorious gatherings, and even after Maine became the first state to pass a prohibition law in 1851, the revelry did not end: The family instead hosted parties in the house's secret underground club.
Over the following centuries, the building served as a school, seminary, and ultimately Danforth Inn, before Lark Hotels bought it last year and began renovations. "When we first learned about this property we were in awe of its history," said Rob Blood, President of Lark Hotels and co-founder of Elder & Ash, the Amesbury company that ran the redesign, in a press release. "Today, Blind Tiger honors that spirit with a unique vision of the urban guesthouse [that offers] a space to come together and celebrate in their own way.
The hotel has a welcoming first floor with a veranda and mahogany bar, as well as nine guest rooms. All of the suites are filled with vibrant colors, abundant textures, and a mix of modern and vintage decor, but each maintains its own distinctive and imaginative style. In fact, each of the accommodations is inspired and named after a local designer or visionary who helped shape Portland, from artists and writers to musicians and conductors. The "Eight Bells" bedroom on the second floor, for example, is named after a painting by Winslow Homer, now on display at the Portland Museum of Arts, and features the same palette as the artwork, plus a king bed. four-poster size and large windows with original interior shutters.
In addition to the wood-burning fireplaces and decades-old moldings preserved in each of the guest suites, the house's underground space was also preserved during the renovation, as was its dome. Customers can now play pool in the old underground sweatshop and head to the dome to take in views of Portland Harbor. Both spaces can also be rented out for social gatherings, which would likely be the pride of the Thomas family.
163 Danforth St., Portland, ME, 207-879-8755, blindtigerportland.com.